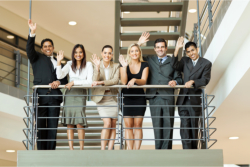 S.G. Isaacs, Inc. specializes in the delivery of Staffing, Early Intervention and Community Habilitation Services. Originally established as an Employment Agency, we are now a provider Agency of professional Non-Medical support services to special needs individuals of all ages with developmental, intellectual, behavioral and autism related disabilities. We provide Habilitation services under the Person/Family Directed Support and the Consolidated Waivers for Individuals with Intellectual Disability of the Department of Public Welfare through the Office of Developmental Programs.
We also provide Early Intervention services under the Infant, Toddlers, and Families Waiver program of the Pennsylvania Department of Public Welfare. We maintain a dedicated team of highly trained professionals who provide specialized services to children ages birth to three (0-3) with issues related to physical, cognitive, communication, social or emotional and adaptive development and their families in their natural environments.
S.G. Isaacs, Inc. continues to provide comprehensive staffing and training solution to agencies in the Health, Mental health, Mental Retardation, Behavioral health, Early Intervention, Community Habilitation and Light Industrial service areas of care.
We seek, screen and provide to our clients, dependable and top quality professionals who specialize in their various fields of endeavor. Operated by experienced Social Work and healthcare professionals, S.G. Isaacs, Inc. understands the specific staffing requirements for the various individuals and agencies that we serve. Our strict credentialing procedures ensure the placement of highly reliable associates in compliance with all regulatory requirements. We provide background screening, staff orientation and training as well as ongoing close supervision and monitoring to ensure the satisfaction of our clients.
Our Mission Statement:
S.G. Isaacs, Inc. is dedicated to providing quality, respectful, safe, comprehensive and family focused professional staffing to clients of all ages in their natural environments at home and in the community. Our professional expertise is in the care of individuals within the continuum of intellectual disabilities, early childhood development and mental health. Our goal is to help individuals we serve to achieve independence and enhanced quality of life.
We subscribe to the principles of transparency in relations with stakeholders, excellence in service delivery to safeguard and support individuals, accountability in resource allocation and appropriate collaboration on behalf of the individuals we serve. We do not exclude, deny care to, or discriminate against any person on the basis of age, gender, disability, race, color, sexual orientation or religion.
For your inquiries, you may call us at 215-329-8800 or you can leave us a message.